Do you recall back to the start of the year when I promised myself I would participate in Me Made May?
Well it's confirmed for another year! So that means for the month of May I will make an effort to wear my me made garments according to a little rule that I get to set for myself
I already wear my handmade stuff pretty often, so I decided to challenge myself to wear something handmade every work day and weekends are optional - depending on what I'm doing that day, though I totally could do it on the weekends too really easily.
If you also plan to participate remember it's more about setting a personal goal that you can achieve,
i.e.
one handmade item per week or use the whole month to work on an epic project and present it at the end of the month. Don't try to over stretch your goal and then feel like you've failed. Read up on Zoe's tips here so you know what to do!
To ensure I had enough supplies for outfits, I took a quick stock of all my handmade clothing items currently in my wardrobe.
Jackets/coats - 3
Jumpers (sweaters) - 2
Scarves - 8 (7 knitted, 1 sewn)
Can you tell I like making skirts?
I realised in this little audit that there are quite a few items I've made and don't wear much since I made them years ago. I don't think I want to donate them like I normally would, so I think I'll have to come up with a good way to store them for memories sake because they aren't really suited to my style any more.
I've also noticed that I should try to make more shirts. My preference for work is dresses, but if I make myself some nice shirts, I could probably versify my work wear at bit more and pair them with my rather large collection of skirts!
And despite living in a warm and sunny country, a lot of my stuff is more suited to cold weather - mainly because I sew things for work and the office is often freezing cold! So this will be good for late A
utumnal
May when I can layer up (especially to hide any sewing boo boos) and still feel comfy
I don't have any pants, so they will be excluded and shoes, socks, undergarments and gym clothes will be excluded also
If I can remember I will try to take a photo for you of each outfit and present them to you in a nice little weekly package!
So that's my plans for me made May. Will you be taking part? What's your pledge going to be?
I leave you now with something you could consider as throw back Thursday sort of thing. As I was counting my older handmade stuff, I came across this lovely old girl that I made from Style 2475 in 2009!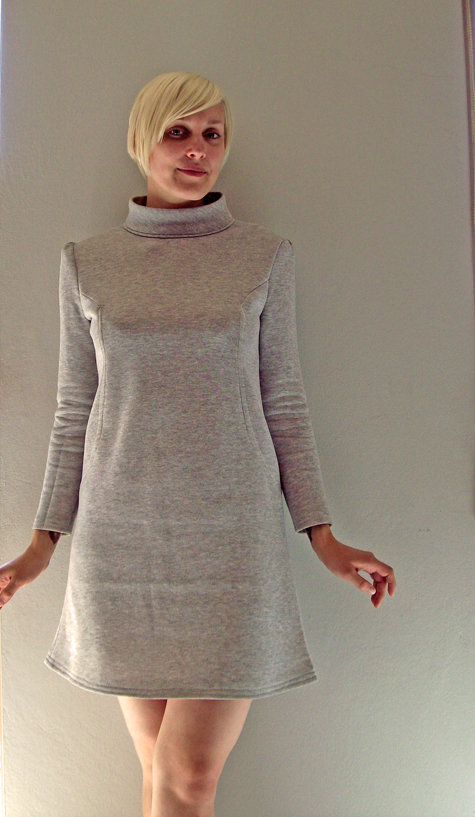 I made it from marle grey fleece and it took on a sort of space age feel. If there was ever a chance to dress up as the Jetsons I would feel pretty on key in this!
Oh yeah and this is when I had short hair (2009) and no qualms about not wearing make up in my outfit shots! Haha I look way older then 23! (must have been hungover from a fun night out or something)
Take care lovelies!
Cat xo