Well, another dress down and a new one already lined up! I'll of course take some photos for you all this weekend, but in the meantime I'm making plans to use this
modern pattern
to make a deep red drop waist dress with white buttons and bias binding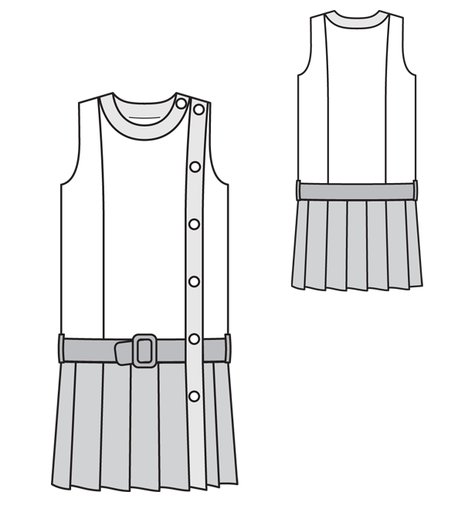 In my research for an inspiration image I came across a reoccurring trend of 60's drop waist dresses, so let us delve a little deeper shall we?
Drop waist dresses first became popular in the 20's - with the dismissal of the corset and the feminine Belle Époque look gone, women were able to adapt more masculine styles. The long and lean look became the new ideal and dresses started to feature a low waist line to accentuate the body, making it appear slimmer without the use of constrictive undergarments.
By the mid 1960's the style became popular again. The free movement the drop waist dress gives allows for lots of dancing, running and jumping - perfect for the new freedom of women in both eras!
60's styles tended to fit a little more closely to the body giving a sporty look whereas the 20s style was loose and feminine
Mary Quant also featured the style in a number of her collections
Drop waist dresses then went into remission until the 80s when it was spotted on the likes of Princess Diana, but in the 80s it was more about volume – adding more shape to the body to create masculine strength instead of slenderness
The main part of the dress is usually straight, decorated with beading or pin tucks. Below the line the skirt can remain straight, be pleated, split or soft and uneven - all perfect for flapping around while dancing the Charleston!
Newer interpretations have the bottom half splayed out, or reach down to the ground for Formal and Wedding dresses.
With the general populations recent fascination with all things Great Gatsby, a lot more high street stores are featuring the lower waistline in soft jersey and cotton
Prada designed an entire collection around the drop waist in 2011
This dress is similar to the top pattern, don't you think?
You can create a drop waist the normal way by sewing two pieces of fabric together or you can create the illusion of a drop waist by adding a strip of fabric at the hip line – automatically extending the bodice
You can also very easily create a false drop waist with a tied sash
Here are a few patterns which show the 60s drop waist. Most of them feature a simple skirt half. The instructions on the last pattern suggest adding horsehair braiding to create an even more impressive flare.
(Horsehair braiding was also used in 50s haute couture to give the volume in those big New Look skirts)
The style was used quite a bit in catalogue and magazine photography, indicating the use in both high fashion and everyday wear
Whats your opinion on the drop waist? Do you prefer one decades interpretations over the other?